The psychological impact of COVID-19 on our mental health is increasing day by day. It has been almost a year now since we are fighting this pandemic.
Initially, people were hopeful and trying to engage themselves in different activities to divert their minds from the fear and stress COVID-19 bought with itself.
Now, when we look back we realize how much we have lost in the last few months. People have their near and dear ones to COVID-19 and some have seen the worst of it.
The scar this year 2020 has left on us will remain for a longer time, but to the contrary, it has also given us a silent message that nothing is permanent and life is unpredictable. No matter how much you plan and decide things for yourself, life and nature have their own planning and a way of doing things.
In this blog, I am going to share about the psychological impact COVID-19 had on people from different walks of life and how it has affected almost everyone on this planet.
PSYCHOLOGICAL IMPACT OF COVID-19
Now, more than ever we need to spread awareness about mental illnesses and how it immobilizes an individuals' life. Emotional pain is invisible and hence the scar it leaves on one's mind is never seen. There is a huge gap between awareness and sensitivity in our society when it comes to talking about mental health, with so much shame attached to it.
With the ongoing pandemic, the majority of our population is not even aware of the psychological impact of COVID-19 on our overall well-being. We all have our share of experiences during 2020, some lost, some won the battles.
Some stayed hopeful, some just gave up. Some adopted a new normal, some could not define a basic norm. Sometimes it's just really hard and that's what we are going to talk about in this blog.
5 Ways COVID-19 affected us mentally, emotionally, and financially
As a result of the COVID-19 outbreak caused by the coronavirus, an alarming situation of socio-economic crisis and psychological distress rapidly spread worldwide.
The world came to halt, things slowed down as if nature took a break from the insanity. With a lot of social restrictions and complete lockdown in some countries, almost all not essential individual movements were prohibited due to quarantine, while the local hospitals received suddenly thousands of critically ill COVID-19 patients and were forced to implement their emergency protocols.
Resulting in a sense of fear and anxiety in the general population, as well as most of the front-line healthcare workers, due to the rising cases day by day of the pandemic and its consequences worldwide. It is like a ripple effect no one was prepared for, no one absolutely no one saw this coming and no one could take it.
The psychological impact of COVID-19 on adults

The psychological impact of COVID-19 on Teens

The psychological impact of COVID-19 on Children

The psychological impact of COVID-19 on Teachers

The psychological impact of COVID-19 on Healthcare providers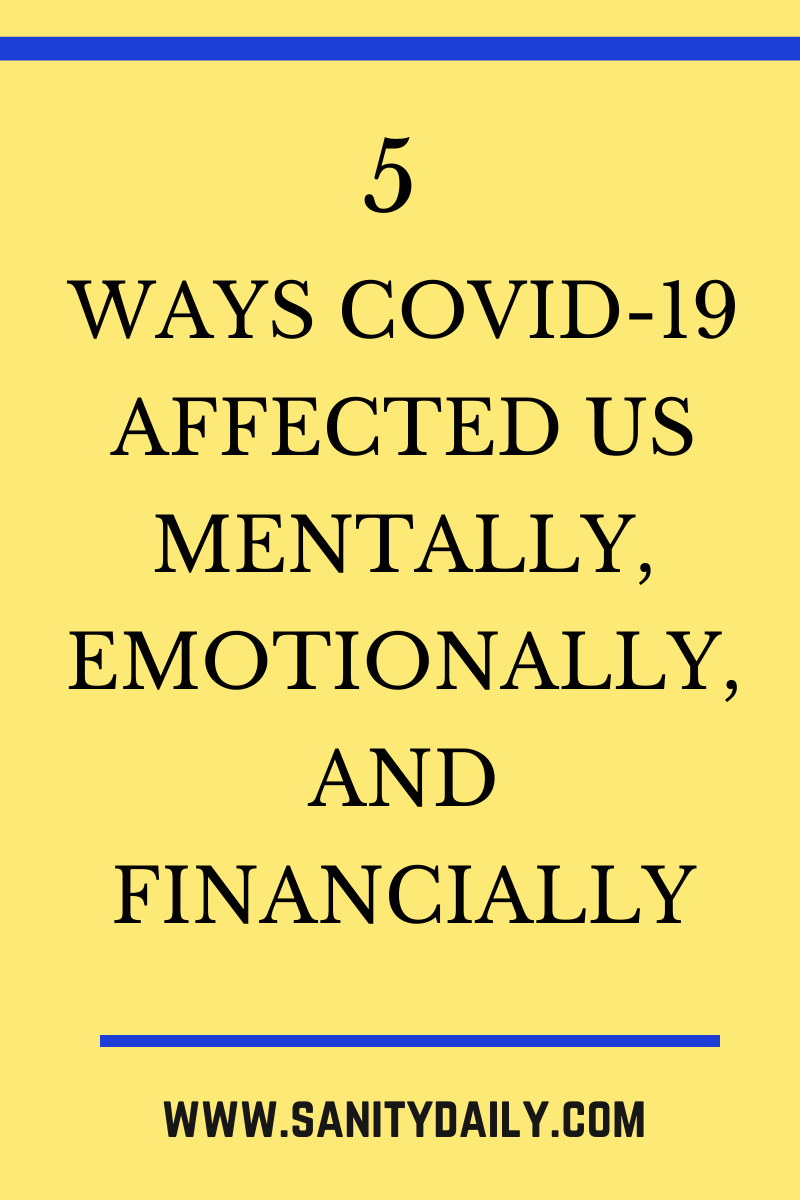 The psychological impact of COVID-19 on adults
COVID-19 affected everyone differently and it affected adults in all the senses. If we talk about women be it a housewife or a working woman, things became way too hectic and sometimes out of hand. With everybody at home and managing all the new things, life surely took a deep U-turn. Managing an extra load of work, working from home, taking care of every aspect, and managing kids, it has become a testing time for many parents, especially mothers, as they are on their toes to keep everything running and smooth.
Work from home initially gave a fake sense of freedom but it very quickly started hampering our productivity in no time. Offices in a physical setup adopt a work culture suited to optimize workflow and productivity. For many employees, working in their cubicles can really get them in the zone. You can collaborate with your team in real-time. People are there to push you, accountability in the face of meeting deadlines seems much more real. Now imagine bringing this kind of work culture into a work from the home ecosystem. It can be hard to put it into practice, isn't it?
People lost jobs, experienced pay-cuts, lost their savings, had to move out of the city, stay in an awkward arrangement, rely on toxic people, and a few who could not repay their liabilities due to job loss had to face a lot of mental harassment from the recovery people, who blatantly labeled them as defaulters.
The psychological impact of COVID-19 on Teens
Teenagers who are so adapted to a scenario where they attend their schools, colleges, coaching classes preparing for higher studies, entrance exams, and suddenly everything stopped and took a new shape of online studies. The initial jitter was natural and they have adapted to this new normal but it has somehow made them lethargic and less active.
They can't go out, meet friends, and have a blast that is costing their mental health. I recently interacted with a bunch of college students and it was a very interactive session. I was surprised to hear how these young children were talking about anxiety and panic attacks. They wanted to know about the adrenaline rush, dopamine because now with so much information available on the internet, they tend to self-diagnose, which is somehow not correct. 
Social media has a different influence on teenagers, they fall into the comparison zone and feel anxious looking at others' feeds. All this and a lot more have made our young mind anxious and restless.
The psychological impact of COVID-19 on Children
Kids are fun-loving, curious, lively, energetic, and enthusiastic, they need constant food for their brain and their energy needs to be channelized in the right direction for them to explore and for us to save ourselves some sanity. With the decreased mobility, increased lethargy, and sadness, they are bound to get irritated.
But amid this social distancing, loneliness, and isolation we as parents have been facing a tough time dealing with our kids as we have to make sure about their safety and not instill a sense of fear in them. How to manage kids during the lockdown? 
It is very important that we maintain our composure while dealing with our children. These are testing times for all of us and as humans are bound to get agitated, anxious, and irritated due to the pandemic and its shortcomings we are dealing with, daily. Dealing with kids, on the other hand, needs a lot of attention, patience, and keeping them engaged has somehow become a challenging task for parents, but remind yourself that this will pass soon. Take it as an opportunity and prepare your child for a better tomorrow by trying to build resilience in them and making them life-ready.
The psychological impact of COVID-19 on Teachers
As per TOI, 90 million school teachers the world over and 6 million in India have been at the frontlines of damage-control of the COVID -19 pandemic by ensuring that learning reaches their learners seamlessly during the lockdown. 
Who thought that our kids will be home-schooling this year 2020? Who thought that the online classes would be a thing of the present and maybe the future, before this?
This pandemic did not only made us suffer in numerous ways but also made us go back to our roots, to make us realize that necessity is the mother of all inventions. Education is a need and our teachers and the whole school system are trying their best to meet these needs in the best manner possible.
We get agitated with the new routine, watching our kids studying online but it is better than not able to study at all for that whole year, I have seen funny jokes and memes around the internet on the teachers and their struggles to conduct online classes.
They switched to the online-teaching mode in no time, they struggled hard with the limited resources/expertise they had to get started with the digital world. Even with the increased stress in teachers, they managed to keep it rolling by putting every effort at work.
The psychological impact of COVID-19 on Healthcare providers
Healthcare workers, being in the frontline of an ongoing war against the pandemic, should be perceived as a discrete population in terms of both physical and mental health impact. This stressful situation and accumulated fatigue severely affect many aspects of work and personal life.
Higher workload results in limited time for self-care, relaxation, and even fulfillment of basic needs, including nutrition and self-hygiene. Social interaction is limited, while the application of social distancing in the healthcare workers' population is difficult.
Clinic rounds, interactive cases' discussion, work-breaks for lunch occur within closed spaces and distancing is not always feasible. Isolation and self-neglect may eventually result in anger, irritability, and mood instability.
Further, the daily contact with patients and the scarcity of resources are factors that contribute to the overall stress that healthcare workers undergo during this time and the dilemma of attending patients and the fear of contamination.
The psychological impact of COVID-19 is the combination of increased workload, personnel shortage, risk of transmission, and lack of resources severely affects the physical and mental health of healthcare workers and places healthcare systems under an extreme burden.
Fighting the Twindemic
Reports already indicate an increase in symptoms of depression and anxiety in a number of countries. A study in Ethiopia, in April 2020, reported a 3-fold increase in the prevalence of symptoms of depression compared to estimates from Ethiopia before the epidemic. 
Specific population groups are at particular risk of the psychological impact of COVID-19. Frontline health-care workers, faced with heavy workloads, life-or-death decisions, and risk of infection, are particularly affected.
During the pandemic, in China, health-care workers have reported high rates of depression (50%), anxiety (45%), and insomnia (34%) and in Canada, 47% of health-care workers have reported a need for psychological support. 
An increase in alcohol consumption is another area of concern for mental health experts. Statistics from Canada report that 20% of 15-49 year-olds have increased their alcohol consumption during the pandemic.
"It is now crystal clear that mental health needs must be treated as a core element of our response to and recovery from the COVID-19 pandemic," said Dr. Tedros Adhanom Ghebreyesus. "This is a collective responsibility of governments and civil society, with the support of the whole United Nations System.
A failure to take people's emotional well-being seriously will lead to long-term social and economic costs to society."
The mental-health crisis will cost India over a trillion dollars in lost productivity between 2012 and 2030, according to the WHO. Given the enormity of the challenge, we neglect it at our own peril.
India needs to make urgent and active policy interventions coupled with adequate resource allocations to tackle the mental health problem.
We will need to invest in national awareness campaigns to sensitize and educate society about mental illnesses and reduce the stigma around them.
The government also needs to expand access to safe and effective care for people with mental health issues under the universal healthcare umbrella just as it is doing with those with physical health problems. For this, it needs to mandatorily bring mental illness under the ambit of life insurance.
To prevent suicide and to foster early recognition of mental health problems, more and more awareness is needed. Initiatives promoting healthy lifestyles and peer interventions; at the workplace, including projects to promote well-being; for underprivileged people, and a lot of information.
Priyanka Nair is the author of 26 Days 26 Ways for a Happier you and Ardhaviram. An NLP practitioner and Founder of Sanity Daily, helping you prioritize your mental health. Let's build a happy community.