Are you a stay at home mom? Are you someone who is returning to work after a break? Or you have plans to? In this blog, I am going to share a combined experience of so many women out there who have been struggling to make it back to their career path after a long absence at work, including me.
A woman who is well-educated, knows her rights and question her existence is always on a lookout for some opportunities to take in her stride, this is one another outcome of the patriarchal system we are embedded with that we have to prove ourselves every now and then.
Being a single parent, now I don't even have the liberty to mope or brood about my situation, I have to get to work. Although I have strong family support, this is not how I imagined myself in the famous" Where do I see myself in next five years" question, we get asked every time we give an interview.
What is it like to, returning to work after a break?
Over the past few months, I have been planning on returning to work after a break. I started applying for jobs. I have been doing good in my writing job, I get paid a decent amount but as a freelancer, it is still a fluctuating monthly income. In order to raise a child single-handedly and keep things running smoothly, I took this decision. But this doesn't mean I will not blog, I will minimise my spread maybe. I had everything planned out before I began applying to the jobs.
I started with modifying my CV, and it sucked big time with this huge career break of 5 years, because there exists a completely alien world outside our small writing community, and for them, our digital space doesn't even exist. No matter how amazing you are at your work, no matter how many people love what you do, it becomes so hard to explain it to someone you just met.
So, finally, I prepared two separate CVs one for my corporate job in supply chain management and logistics profile, like my earlier job, and the second one that suits a job profile of a SEO writer/digital creator. I got few matches and even went through a few telephonic rounds.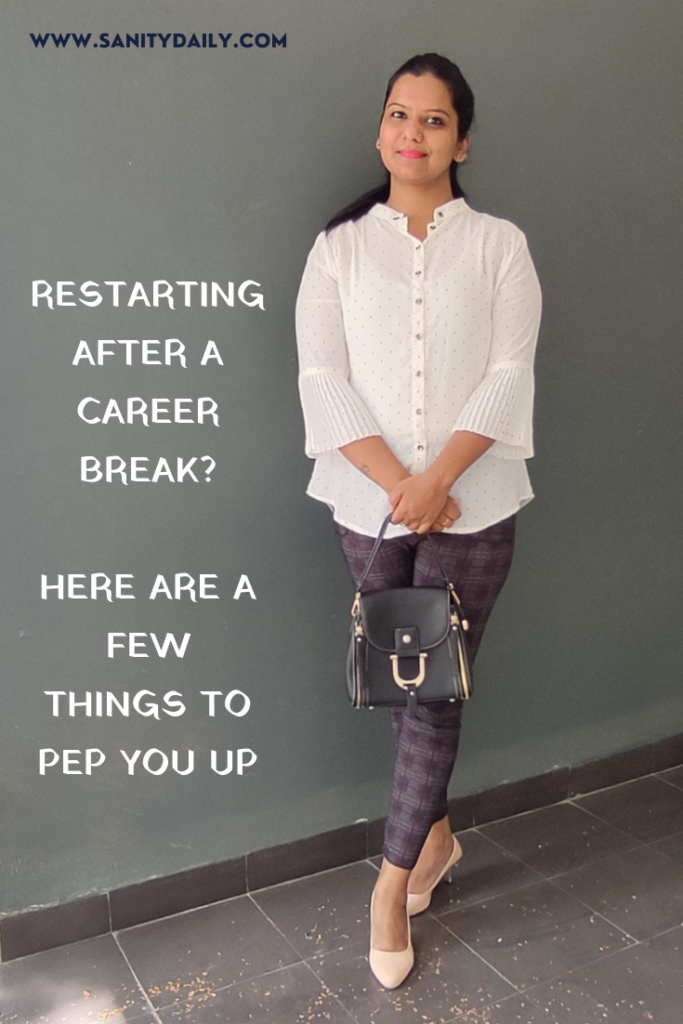 Restarting after a career break
Do you know, what was worse than negotiating the salary? The pressure of convincing them that I still exist. Most of the time, when a recruiter is interviewing you, they make it a point to bring you to a level where you either lose yourself or the job. After enough of explaining and putting my best foot forward, I even got reminded of Geet from Jab We Met, where she says, "Aap convince hogae ki main aur bolu? –are you convinced now or should I explain more?
It was when the interviewer laughed and said that "oh so you a mom blogger"(it hit me hard), a good thing to do to pass the time at home. I was at my wit's end. Because a thing of a time pass doesn't help you earn name and money. It doesn't get you listed among top bloggers, write 4 books, one biography and win awards. I wanted to tell it all to that guy but I kept my calm. Breath in, breath out, Priyanka! Then he started negotiating on the salary and considered the base salary I was earning back in 2016, seriously?
I just felt like hanging up the phone but then I reminded myself, this is reality. Every time we try to break the glass ceiling and we find such people in the way who try to break us. I see so many women returning to work after a break with a heavy heart sometimes compromising on their salaries and job profile. Sometimes not even being able to use their full potential because of the unsupportive environment we have got around. So many of us are frustrated inside because we want to do a lot of things, leave a mark behind but we don't get healthy opportunities.
How to get back to work after a long break?
It might sound like losing ourselves in a biological space suit and trying to figure out what might hit us next. But NO, we are not stopping here, neither we are giving up. What we can do is:
1.) Be realistic in your approach
2.) Have a cover letter and CV updated
3.) Set your priorities right
4.) Be open to seek help when needed
5.) Network and look out for career return programs (Godrej, Convergys, Tata group offer some)
I am going to work harder until I establish myself and maybe someday I will find a decent job with which I can pursue my passion for mental health blogging as well. Till then, I am all game. So are you returning to work after a break? I say, bring it on and we will make our way through all the jeopardies.
Love and light
……………………………………………………………………………
Priyanka Nair is the author of 26 Days 26 Ways for a Happier you and Ardhaviram. An NLP practitioner and Founder of Sanity Daily, helping you prioritize your mental health. Let's build a happy community.
---
This blog post is part of the blog challenge 'Blogaberry Dazzle' hosted by Cindy D'Silva and Noor Anand Chawla and sponsored by Queen's Brigade.