Yes, I am a mental health blogger, I write about all the things people hesitate to share and own. There lies a lot of shame and stigma around mental stress, our societal standards are such that it fails to give a safe space to any individual to open up and work on their inner feelings.
My first blog "Virtual Siyahi" is a result of my mental distress, I needed a getaway and, I found one in writing. I decided on my niche as mental health unknowingly and, now I know what I am doing is not only a theme for blogging but it is a never-ending cause, hence I pray I continue to help my readers through my voice as a mental health blogger.
I have penned down over 1000 blogs and I am too passionate about my work. I am from a completely non-psychological background, and had no idea about the language and basic understanding of dealing with someone going through any mental disorder, but I knew to be kind and empathise with others, which helped me.
As I went ahead with my passion for writing and my purpose to spread awareness, I realised I need to learn a few things to be able to help my readers in a better way. Hence, I did a few certification courses like psychological first Aid, mental health Ambassador, and mindfulness and right now pursuing CBT (Cognitive Behavioural Therapy). Last year, I also enrolled myself on a full-time NLP(Neuro-Linguistic Programming) Practitioner certification course which lasted four months.
I have invested a lot of money and a huge amount of time to upgrade myself and I am still open to learning 🙂 Being a mental health blogger, I have not only learned the right approach but this journey of mine has taught me a lot of other things as well.
5 Things I learned being a mental health blogger
This dedicated portal "Sanity Daily" is an attempt to not only provide a safe space for my readers but also a venting space for anyone. I receive dozens of messages daily from different corners of the world and today my blog is read in more than 60 countries, all organic visitors.
Two inferences: People need help and people are suffering. Hence a lot of work remains to be done.
So here are a few things I learned in my mental health blogging journey so far:
1.) I learned the right language
It is very important that we have the right approach while we try to ease someone's pain and also make sure that we share the news of suicide or any other news with trigger alert and with the utmost sensitivity.
We must be active listeners, we never say committed suicide, we say died of suicide. I learned this in my journey.
2.) I learned that kindness costs nothing
And, that's how I came up with my initiative "Letters of Compassion" wherein, I started sending hand-written letters to strangers connected in the virtual world.
3.) I learned to empathise
No, it is not difficult to put yourselves in the shoes of others, because that's when exactly you get an idea about their situation. All you have to do is stay unbiased and open to what you might learn about that person.
4.) I learned to stay non-judgmental
I learned to be non-judgmental, one of the biggest breakthroughs for me. I deliberately think about all the possible reasons before concluding anything about any person. We all are fighting silent battles and many of us don't even speak about it.
5.) I learned to let go
Too much holding on results in a severe burn-out, and after a point of time, it becomes important to let go of things that don't spark joy in your life and people who bring out the worst in you. I learned this the harder way, but I have made it my mantra now.
Today, my blog is listed among the top mental health blog directories worldwide, many of my posts rank on the first page and I have received a lot of love and support from my readers and fellow bloggers. I am grateful to everyone who has been there for me in my second inning of life. And, I promise to continue to walk on the path I have chosen for myself.
……………………………………………………………………………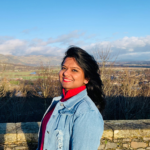 Priyanka Joshi is the founder of Sanity Daily. Host of 'Mental Health First" Podcast. A digital nomad, published author and an NLP practitioner, helping you prioritize your mental health.