How to deal with a rude mother in law? A person who does not respect your feelings and your emotions. Who could hurt your sentiments anytime and make you feel responsible for whatever situation you are in? Your problem is not their problem and they prefer to stay ignorant towards you even if you approach them seeking help. How Do you deal with them?
The problem here is that a woman loses all her kindness and sweetness as soon as she becomes a mother in law. She imagines a flashback of her whole life in her new daughter in law and vents out her whole life's bitterness onto her. 
This is what has been the life cycle of this relationship, this is how we are passing the legacy of dominance and bitterness to the coming generation. In this blog, let's learn to stay a little human while our mother in laws has forgotten their basic humanity.
Five signs you are dealing with a rude mother in law
While there could be several incidents that could be very depressing and saddening for you but let me tell you a rude mother is still manageable because she is a mix of so many traits. You just have to identify the signs, understand what hurts more, and take charge of the situation. When you see these below mentioned five signs in your mother in laws, you need to step back, introspect and set boundaries with your mother in law to save yourself from a little insanity.
1. She ignores you
2. She disrespects you
3. She makes fun of you
4. She compares you with others
5. She is jealous of you
1. She ignores you
She will ignore you today and maybe the rest of your life, take account of this, and never stress seeking any validation from her. It is quite a common sight when you approach her for asking something or telling something. An ignorant mother in law might not pay attention and tries to overlook your needs and what you are trying to say. It feels bad but if she is being rude to you; you need to withdraw.
2. She disrespects you
Be it in private or in public, she will leave no chance to show that you are not welcome to the party. Your voice and your opinions never matter in front of her. In my blog titled, How to deal with disrespectful in laws, I specifically pointed out ten powerful hacks on the very important aspect of this relationship. With this type of behavior, you begin to doubt your own self but here the possibility is that her rudeness might mellow down over a time period but you need to take care of your mental state.
3. She makes fun of you
The person who behaves rudely does not think before passing snide remarks or anything. If your mother in law is rude to you, she might even criticize you for the way you carry yourself, the way you cook or even the way you talk. Do not let her words make any difference in your life, continue to believe in yourself.
4. She compares you with others
This is a very common trait of almost every mother in law. It is said that the grass looks greener on the other side. For the mother in laws, the grass gets replaced by the daughter in laws. They will compare you with others and try to belittle you. She will complain about your weaknesses and try to mock you down with her rude and arrogant behavior. Stay firm from the inside.
5. She is jealous of you
Can mother in laws be jealous? Yes, they surely can and you will be left pondering over petty issues like even cooking a decent meal. She will reject your efforts rudely and you will think what did I do now. She might be jealous of your skills or simply doesn't like the sight of you being appreciated by other family members, which makes her rude towards you. Stay calm.
How to deal with a rude mother in law and still be the best version of yourself
Now, that you know how a rude mother in law sounds the next question will be definitely, how to deal with a rude mother law, isn't it? You just need to take a few measures to keep your relationship with her still in working condition, right or wrong? I guess right because, in the end, we all want a happy ending, who wants to carry on with the unpleasant series of fights and arguments, adding bitterness to the family? Who doesn't want to live with their in laws and yet remain stress-free? Let us discuss seven ways in which you can deal with a rude mother in law and still continue to be the best version of yourself.
1. Don't expect- Thumb rule
2. Learn to let go
3. Talk it out
4. Smile often
5. Stay confident
6. Learn new things
7. Stay positive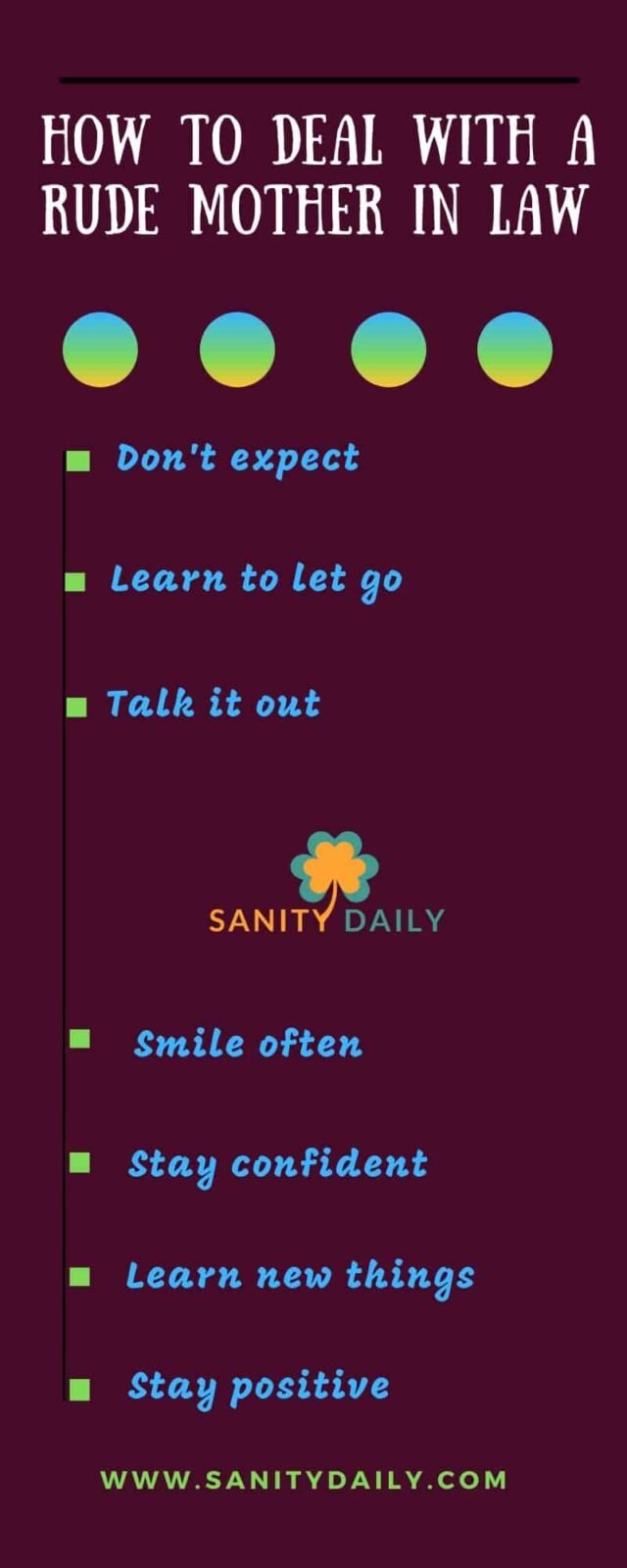 Don't expect -Thumb rule
Lesser expectation or no expectation is the thumb rule for any relationship. How can you expect your mother in law to love you, like you, or be nice to you when she hardly even knows you? Yes, here is the catch; they don't make any effort either to know their daughter in laws. But then lesser expectations could significantly lessen the amount of the burden you carry on your shoulders because of their rude behavior towards you.
Stop expecting but stay hopeful, now, here is a twist. How? She doesn't know you today but if you continue to be yourself and be kind despite all the rudeness she spreads around you, there is a hope that she will come around and you won't feel invested.
2. Learn to let go
How to deal with a rude mother in law or a mother in law who never cares about me? I kept searching for this and held up so many things inside me, which eventually multiplied like tumours and started eating me from inside. The day I decided to take charge of my mental health and started sorting my emotions and grudges, things became lighter. I felt light and saw things clearly. I learned to let go and I want you to start doing it right now. In my blog, Handling In Laws living with you I have elaborated on this aspect Hence I insist that you make some space for good things.
3. Talk it out
If her rude behavior towards you bothers you a lot then instead of bothering yourselves thinking, about how to deal with a rude mother in law, go and find the answers if it helps you. Don't be defensive, annoyed or angry. Just try to maintain a calm composure and approach her with a positive mindset. Try to be respectful and firm, and start your conversation on a serious yet subtle note. Vent out if you want to but again do not expect her to change overnight. Give it some time, put your point and move, and leave the thinking part to her.  Do not overstress or force her.
4. Smile often
Smile is the best medicine to cure several problems that too is available for free. We often forget to smile and embrace the good things we possess. We do not reciprocate with other family members well just because we have a problem with one family member. Don't do that. A smile is infectious and a happy and cheerful person is liked by everyone. When you smile you believe in yourself, you look bright and it changes the atmosphere of your house. No matter what you are going through inside your head, do not forget to wear a smile. Smile, not to hide your sadness but to embrace it and own it. It will act as an anti-depressant tool for you.
5. Stay confident
Let nothing and no one take your belief in yourself from you. Situations like these will test you and you might start doubting your own self. It happens and when someone rejects what you are doing, it becomes very annoying for you to handle it. I will still insist that you keep your chin high, not with arrogance but with confidence. Continue to believe in yourself and your belief and faith will lead to many positive outcomes in the future.
6. Learn new things
Probably your mother in law was always at home; she did not learn new things, met new people, or maybe just the opposite of all that. But when you learn new things, you bring a newness within you; it reflects outside. You can share your new learnings with her, maybe she will take an interest or find it not so interesting. But at least you will be making a fair attempt and you will have nothing to lose here.
7. Stay positive
Keep it rolling. Stay positive; your positivity will spread more positivity around your relationship with your mother in law. If not today but maybe in the future when you will come to terms with your mother in law when you will no longer get affected by her behavior. Not because you got used to it but maybe you understood why she is like this and she understood that you are not what she thinks of who you are. Let the seeds of positivity which you sow today, bloom in the future.
Should you be rude to your mother in law because she is rude to you?
Despite the rudeness I received from my mother in law, I knew she is not a bad person at heart and I continued to be the same, I took my time, gave her time and I checked on her regularly. The only thing that changed in our relationship now is that I don't expect anything from her, I talk to her, tell her a few things, hear her say and that's all. 
I stopped taking things personally and started hearing her rather than listening to her between the lines. It helped. You should never be rude to your mother in law just because she was or she is rude to you. As compared to many other emotions rudeness is still manageable. In my blog titled, How to deal with in laws who hate you, I cited a few points describing how dealing with a hateful mother in law could take a toll on your mental health. How to deal with a rude mother in law is still a lighter question than handling a hateful one. Look for the brighter side and make your life easy.
How to keep up with your sanity amidst all the chaos?
I always ask my readers to take charge of their lives. Take the good out of the bad and focus only on the good. Be grateful for all you have in your life. Every person, and every incident has something to give you in return, a rude mother in law has a lesson to give on how you would not like to be in the future.
Make amendments to yourself and start looking in the other direction in your life. Your mother in law is just a part of your life and not your whole life. You can deal with her, but before dealing with her you have to deal with yourself. Start with the following ways.
Drop the baggage of expectations

Free yourself from the assumptions

Do not judge

Do not stop being kind

Stay mindful, live in the moment

Breathe in positivity and breathe out negativity, do it daily

Spend time with your kids, not only as a parent but as friends.

Look for upgrading yourself

Stay physically fit

Focus on mental health
Never forget your physical fitness is as important as psychological fitness and when we follow a routine towards adopting a healthy lifestyle, it changes a lot of things around us, starting from reducing stress, positive change in self-perception and well-being, relief in tensions, changes in mood and developing coping mechanisms.
We just have to spare 15- 20 minutes a day religiously for ourselves. Things with your mother in law might change in the future but before that let's make our mental health our priority so if the opportunity comes we would be able to welcome her with open arms.
Lots of love and gratitude

---