How I turned my life's path from depression to manifestation? How I changed the story of my life? Beginning with a short poem expressing myself.
What do I write about you?
I lived you for more than I should,
God had sent to me two budding flowers,
But they withered even before they could bloom.
"Ninth of April" – A date I cannot really forget.
A date I wish would not have had come,
Date when grief bestowed upon me.
A date when I lost my two babies…
And I was devastated with an empty womb!
I felt miserable to fail as a mom!
Who could not even protect,
Her own children who should
Have been safe in her womb.
Physical pain healed, people got normalized,
I saw cheerful faces everywhere around,
With time, my face too had a smiling mask,
Whilst I silently grieved my empty womb.
God trusted me better than me I guess,
Which was why He sent me another soul,
A beautiful journey started for me,
But the old incident didn't keep me whole.
Apart from a complicated pregnancy,
I had another battle inside me,
Whilst my appearance looked happily perfect,
My naked heart was difficult for people to trace.
I lost three years into this duality,
I feared people's low mentality,
Either I could have had taken a clinical help
Or Would have had taken some therapy.
This realization when struck my head,
I decided to stop this and stood up instead,
I didn't care how, what, or ifs and buts,
And then happiness and success through me erupt!
Depression to Manifestation
This poem is a short trailer of my four long years of life depicting the struggles I went through and how I overcame it. I was pregnant for the first time in 2016, and like any first timers – it was a special feeling. I was pregnant with twins and thanked God for his blessings in abundance. However, it was short-lived as both my babies lost their heartbeats by the end of the eighth week and my pregnancy had to be terminated.
Things got normalized for everyone but for me, the grief left a deep scar on my mind and heart. That vacant space was really taking a toll on my emotional health. Everyone suggested that I must move on and live a normal life but for a mother who lost her children, it was easier said than done. A child is gone, is a child gone forever for a mother, no matter the age. It was as if a part of me was gone.
Related:8 Signs You Have Been Ignoring Your Mental Health
The time went by. I was happy to know that once again I was pregnant in 2018. I thought this feeling of vacancy would be gone. Instead, the past experience gripped me tighter. I started fearing loss. I started panicking. Unfortunately, nobody understood my mental state, my depression. I started getting dreams of death which was not a good exposure during pregnancy.
I thought maybe after childbirth, I would start feeling better. But it got worse. I had issues in feeding the baby in the initial month. I felt I was unworthy of becoming a mother. My baby was more comfortable around my mother and sister than me, again making me feel that I was an undeserving mother.
I started feeling that people are judging me for my choices and this burden of judgments started weighing me down. I gradually felt depressed about my looks, weight, hair fall, and the disappearance of that glow. I started staying confined to my home and never wanted to go out.
Once a creative person, at heart, who loved drawing, reading, writing, singing, and indulging in creative and artistic work, all of a sudden felt so lifeless and demotivated to even get ready for herself. In totality, three years had passed in depression without any clinical help or having discussed the same with anyone in the family or with friends, for the fear of being labeled.
Related: 12 Most Common Mental Disorders You Must Know
In the midst of 2019, I happened to realize that this is not how I want to live and that I have a life ahead with a son to be taken care of. I would never want my son to believe that this is a normal way of life. I pushed myself to change my thought process and attitude towards life and everything that is surrounding me. My son became my first motivator and encouraged me to move out of this depression.
I revamped the former me by involving myself in reading and writing habits, once again. I penned down a number of poems based on my personal feelings and state of mind, thereby helping me release the pain that had engrieved me. Eventually, I got back my grip on writing skills and felt contented and motivated to do more of it. Hence, I started micro-blogging on an Instagram account named "MyDiaryofMotherhood". The "motherhood" that pushed me into the well of depression, is the same that extended its hand to help me out of it.
If you ask me, do I miss my long-lost angels? Of course, I do! Does losing the two unborn babies make me less of a mother? They had been a part of me for eight full weeks. That might look like a brief period, however, for a mother, it feels like an eternity. Although I miss them, I am grateful that even with the numbered days, we found our little infinity.
2020 – A year of change, has made me realize that my depression was not my weakness but a hidden strength and potential that I had to go through in order that I could empathize with other women undergoing similar pain or depression of any sort. As I am aware of how it feels when you cannot talk and share things like this, I am determined to not let any other women endure similar pain. Hence, I am designing a Healing Process to help such women so that they can come forward to seek help without feeling ashamed.
From my experiences, I have learned that life never throws adversities at you but those are blessings in disguise which help you discover your true potential and your life goals. I firmly believe and have started living by these two quotes – 'The show must go on' and 'Jo hota hai, acche ke liye hota hai.'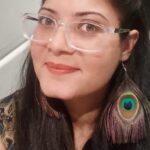 A self-learned writer and artist. Skilled in writing articles, quotes, shayaris, and poetries.A techno-managerial graduate with a work experience of four years who quit her job to embrace the most beautiful phase of life – Motherhood.