Wondering what to watch next? Here is a list of 12 inspirational movies to watch in 2020 and get all pumped up. It is always great to watch a movie which gives some valuable lessons.
2020 has been rough and more and more people have entered the digital world and OTT platforms have been on the all-time hit, so when you are busy binge-watching series on movies on Netflix and amazon prime, why not watch something inspirational as well?
In this blog, I am sharing 12 inspirational movies which will change the way you see the world ( at least till the hangover of the movie lasts)
Inspirational Movies to watch in 2020
I love watching movies that have some meaning and besides this, I enjoy watching psychological thrillers as well and that's how I love Sherlock Holmes. I am SHERLOCKED ever since I watched the series and learned about the existence of the science of deduction but could never actually deduce anything so far.
Well, if you are planning to watch a movie tonight then you can refer to this list once. A few weeks back I had compiled a list of 25 self-help books and I love to curate such lists for my readers. It only adds a personal touch but also allows me to connect with my readers. If you have any more suggestions, do add on to the list, I would love to hear from you. 🙂
12 Movies that will inspire you
Some movies teach you life lessons, motivate you so that you get a reason to charge back up. Here are some movies available on Netflix and Amazon Prime.
1.) Swades
2.) Hichki (Tourettes Syndrome)
3.) The Theory of Everything
4.) Forrest Gump
5.) To Kill a Mockingbird
6.) The Pursuit of Happyness
7.) The boy who harnessed the wind
8.) The Fault in Our Stars
9.) Evening Shadow (Documentary on LGBT)
10.) Period. End of Sentence (Documentary on Mensuration)
11.) 3 Idiots
12.) Mary Kom
1.) Swades
Swades is a 2004 release drama movie, produced and directed by Ashutosh Gowariker. This movie is based on the true-life story of an NRI man who returns to his homeland, starring Shah Rukh Khan, Gayatri Joshi, Kishori Ballal in leading roles.
The film is considered one of the most inspirational movies and ahead of its times which upon release received widespread critical acclaim and is now considered a cult classic of the Hindi cinema. I have watched Swades several times, and discover how beautiful it is to go back in time and feel the lost era. 2004 to 2020 and I say please watch Swades if you have not watched it yet.
2.) Hichki (Tourettes Syndrome)
In this movie, the actress portrays the character of a teacher who is a victim of Tourette's disorder, a struggling individual who is not able to find a decent job for her in spite of being highly qualified.
Tourette syndrome (TS) is a neurological disorder characterized by repetitive, stereotyped, involuntary movements, and vocalizations called tics. The early symptoms of TS are typically noticed first in childhood, with the average onset between the ages of 3 and 9 years.
Tics are often worse with excitement or anxiety and better during calm, focused activities.
In the movie, the actress was made fun of her disorder and the interviewers always had a doubt about her abilities to teach children, but she insisted and with certain ups and downs, trials and errors, she wins the heart of her class students and teachers and makes a place for her in the school as a teacher. This was reel life but a fair attempt to present what an individual has to go through in order to survive his daily and basic needs if he or she is a victim of any such disorder that is not in their hands. A must-watch.
3.) The Theory of Everything
The Theory of Everything is without a doubt an incredible and inspirational story, chronicling the early years of Stephen Hawking's life. Very well cast, the screenplay is extremely well executed.
It gives us an insight into how challenging life can be for people with motor neuron disease and those around them, and how Stephen Hawkings struggled in his life.
Stephen Hawking is a wonder. Exploring into the world of mystery and discovering the unknown… He is a source of inspiration. Jane's love is remarkable and gives the definition of what true love actually is. Eddie indeed is the greatest actor ever and has played the role of Stephen Hawking extraordinarily well. It gives a powerful message; we can do wonders in life if we are courageous enough to face each and every situation boldly.
4.) Forrest Gump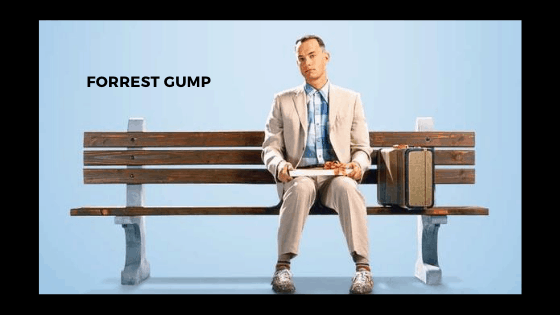 I'm a fan of simplistic movies that convey a deep meaning in the most simplistic ways and this movie flawlessly fits this particular classification. The character Forrest, played by Tom Hanks makes you fall in love with his character with his outstandingly persuasive performance. It is one of the inspirational movies that are subtle in nature but goes on to communicate positivity to the viewers through numerous instances and leaves you in awe and encouraged.
The movie depicts love, loss, and life in a realistic way. All the characters are realistic and sympathetic making everything that happens either happier, tenser, or sadder.
The story is beautiful, one cannot clearly plan his/her life like a pathway, we all may have the destiny to reach but we're all also hovering in the air like a feather that will go from all kinds of highs and lows and life is about experiencing all of them and moving on. It's a beautiful movie and certainly a must-watch.
5.) To Kill a Mockingbird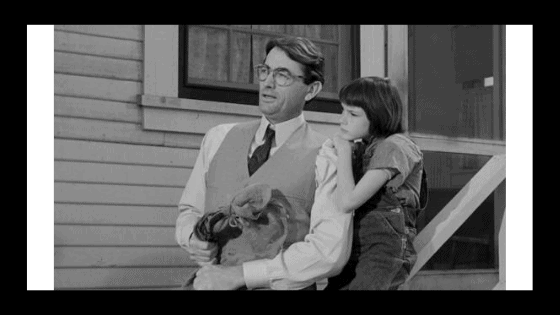 The quote "Shoot all the bluejays you want if you can hit them, but its a sin to kill a mockingbird" will change our perspective towards the world once we understand its true meaning.
This movie is a great adaptation of the book, which not many movies do. Both the book and movie are great pieces of how society is towards innocent people. I would recommend both the book and the movie if you can.
Sometimes what we see in the mirror makes us uncomfortable and we want to turn away. Sometimes we would like to deny our past. Harper Lee holds the mirror up and confronts us through this movie.
6.) The Pursuit of Happyness
The Pursuit of Happyness is an American Drama film based on the true story of an entrepreneur named Chris Gardner. One of the highly inspirational movies, it is one filled with hope and determination, which makes the film worth repeated viewings.
San Francisco salesman, Chris Gardener, struggles to provide for his family. Gardner and his son, Christopher had to endure many hardships throughout the movie including living on the streets and shelters. Chris's wife Linda works double shifts doing hotel laundry in order to get by. However, Linda then leaves Chris and she finds to go find a better-paying job in New York. Gardener strives to financially support his son and the struggle to find a steady job and he tenaciously words hard to find a well-paying job to provide for him and his son, the way it is shown will surely inspire you.
7.) The boy who harnessed the wind
This movie teaches us Gratitude! Some of us are lucky to go to school but never value our education and take it for granted. Meanwhile, there are kids in remote areas that are trying their best to make their dreams come true no matter the situation. There are many of us who make excuses for not acquiring the concepts we have to grasp in school because of family problems or something else.
It illustrates how education is vital among the developing countries of the world. Even in the direst of circumstances like drought & famine, the attainable solutions are there. This self-taught African boy from Malawi who saved his community from just reading a book about using wind energy will humble any intellectual cynic.
8.) The Fault in Our Stars
Both emotionally and romantically rich. At some points even gut-wrenching, it will make you love, it will make you cry. The movie is about two young cancer patients (teenagers), who fall in love. Fate has got a twisted game plan, flipping the book upside down.
The fight cancer patients put up, the loss their families and loved ones will have to bear, the uncertainty of a loving relationship, the fast-paced infinities. It is not just a love story in any other book It speaks about the meaning of life and how it is to live knowing that we are dying. It is all about discovering the truth of life and death.
9.) Evening Shadow (Documentary on LGBT)
Amidst the Section 377 Historical verdict, I came across this movie one day on Netflix. I was not sure if I should watch it, not because of the subject but was thinking about how the moviemakers would have portrayed the sensitivity of the subject, the message, the struggle, the fight, as this is such a sensitive issue.
I could not believe what I was watching, such a sensitive subject was handled, created, and presented so beautifully and in the most graceful manner, you will ever come across. I could not believe that someone from India, which is known as the land of cultural and traditional beliefs has already made an attempt to portray that the other world exists and they are very much part of the world we live in.
The movie depicts a beautiful picture of everyday life in a typical south Indian family where a day starts with a cup of Coffee and perfect holy rituals. The house, the surroundings, greenery, and the whole atmosphere make you a part of the drama.
The story revolves around the city life of Mumbai and the warmth of a village in South India. It shows how the path-breaking career choices and individuality of the son and the ideologies of his father never get along, how a mother tries to balance everything in the house, a perfect symbol of an unconditionally loving and caring mother you can come across.
10.) Period. End of Sentence (Documentary on Mensuration)
The film follows girls and women in Hapur, India, and their experience with the installation of a pad machine in their village. One young woman, SNEHA, tells her dreams of becoming a police officer. Another girl discusses the taboo of menstruation, the importance of education, and how she had to drop out of school when she got her period.
Soon, all of the women we meet are determined to work on the pad machine (which will earn them more money than their prior work in the fields) and to create a micro-economy to support themselves for the very first time. As the inventor of the machine, Muruganantham says: "The strongest creature on earth is not the elephant, not the tiger, but the girl." ( Source: The Documentary)
As a woman I also feel, to really smash down the stigma attached to the periods is by beginning to openly talk about it. As rightly mentioned by the very director of the movie, Rayka Zehtabchi, who could not believe that a documentary on Period got an Oscar Award.
11.) 3 Idiots
The one who says that don't run behind success, run behind excellence, and success will bound to come behind you. I love this movie for various reasons. And I feel inspired by the little ideologies baba Ranchodas Chanchad shares in the movie 🙂
One of the most loved and watched movies of the times, 3 Idiots was a full paisa wasool movie. A movie that was full of engaging storylines, great screenplay, and a beautiful message, 3 Idiots was not just critically acclaimed but emerged as a huge box office success. You will surely have a good laugh and feel inspired by the friendship of these 3 idiots, their level of dedication towards each other, how they discover life and the importance of beliefs, and develop faith within themselves.
12.) Mary Kom
One of the highly inspirational movies I have ever watched, of course, the directors and producers take some cinematic liberty to portray the central character strongest and heroic, but still, it is worth a watch to get your muscles literally pumped up ladies.
Priyanka Chopra did awesome work as Mary Kom though. I loved the fact that how supportive her husband's role has been throughout the journey, from setback to come back, from her love affair, motherhood to hard-core kickass boxer, the real Mary Kom does inspire us.
I hope you enjoy watching some of these, if you have any suggestions for any other inspirational movies, do mention them in the comment box and I would love to watch them 🙂
Love and light!
Priyanka Nair is the author of 26 Days 26 Ways for a Happier you and Ardhaviram. An NLP practitioner and Founder of Sanity Daily, helping you prioritize your mental health. Let's build a happy community.