How can ART help us improve our Mental Health?  Whenever I talk about mental health wellness, I suggest having a creative outlet. To search for a medium of art to express how you feel from inside because it helps.
hen you open your heart and make art. It's as if we open up the essence of who we are and allow ourselves to discover something new about us, the insight that what we truly know to be true within ourselves.

3 ways ART can help us improve our Mental Health
How can ART help us improve our Mental Health?  When you open yourselves to explore, you discover a few things about yourself you may not even know you possess. Maybe you always wanted to be a painter but you never gave yourself the opportunity to paint.
Art itself is therapeutic to experience. No matter whether you create or simply observe and enjoy it, it helps you to relax and inspire in many ways. I personally enjoy making doodle art, mandalas, or some DIYs. I love to stay around nature and it helps me to relax.
Research suggests
that art therapy can be very helpful in treating issues such as depression, anxiety, post-traumatic stress disorder, and even some phobias. It is a great way to express your emotions without words, process complex feelings, and find relief. In this article, we will take a closer look at art therapy and discuss its mental health benefits.
What is Art Therapy?
As per the American Art therapy Association, art therapy is a mental health profession in which clients, facilitated by the art therapist, use art media, the creative process, and the resulting artwork to explore their feelings, reconcile emotional conflicts, foster self-awareness, manage behavior and addictions, develop social skills, improve reality orientation, reduce anxiety, and increase self-esteem.
A goal in art therapy is to improve or restore a client's functioning and his or her sense of personal well-being. Art therapy practice requires knowledge of visual art (drawing, painting, sculpture, and other art forms) and the creative process, as well as of human development, psychological, and counseling theories and techniques.
Improve your Mental Health through Art
How can ART help us improve our Mental Health? By nurturing ourselves with something relaxing and so soothing that our sensory nerves get a signal of calmness around our environment. 
1.) Create your sacred space
Space which solely belongs to you, when I started writing, I knew that I am going to continue to write for as long as I can actually write. In later 2016, I was ill and was undergoing treatment. I have always been inclined towards arts but that was one particular time when the idea of healing through arts got stuck inside me.
I started writing, I created my first personal blog named  Virtual Siyahi, and as I slowly embarked my journey of writing, I discovered a hidden me. I knew I have to go on and I created my sacred space, I organized a desk, right now I am writing this blog via the same desk, that is full of books, stationery, Buddha idol at one side with a candle and a little tree beside. 
All the art I have created is in and around this desk. It helps me to feel good about my work, it is something I have created for myself. I call it a GIFT because it has helped me to share myself with the world.
A part of me that was unknown to me for so long is suddenly a part with which so many people relate with and all this is through my art of writing, expression, and listening. It has not only helped me discover my true purpose but it has also enabled me to heal myself by helping others in the process.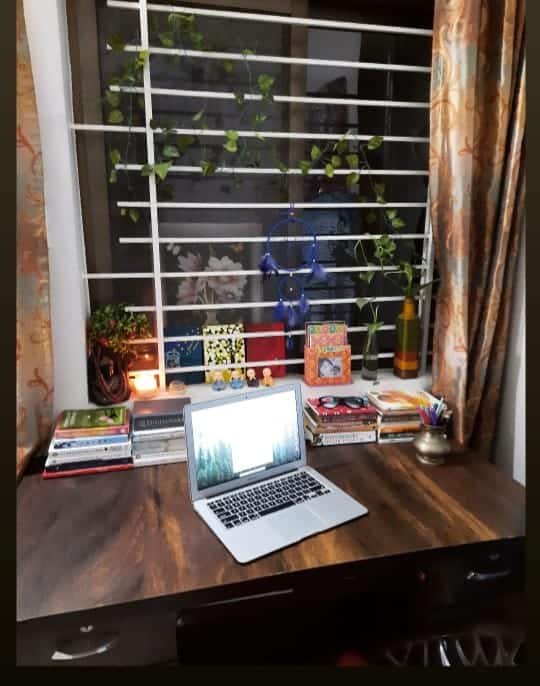 2.) Find what sparks joy in YOU
There is always something which you love to do, which I love to do. Just because we are so stuck up in our daily chores and busy life, we don't pause and reflect on so many things. But to take care of our mental health we need to reflect on its needs.
For some it could be painting, for some, it could be swimming, for some, it could be playing football or playing the guitar. How can art help us improve our Mental Health? You have to find what brightens up your atmosphere.
We need to find what helps us, we need to identify our passion. Sometimes you discover purpose while you identify your passion. For me, writing is not only my passion but my purpose to spread mental health awareness through my writing is my sole purpose.
I love what I Do and never feel tired of this joy of giving and receiving.
Nurturing your mental health is not a one-time thing, you have to constantly take care of your inner space. Mental health is as important as your physical health, check on it as much as you check on your outer beauty.
When you radiate from inside it shows on your face. So once you identify a creative outlet for yourself, dedicate some time to it. 
It is very important to know that you don't have to be perfect in anything you do with your art. All you need to do to complete an activity successfully and honestly. 
Studies also show that creating art stimulates the release of dopamine. This chemical is released when we do something pleasurable, and it basically makes us feel happier. Increased levels of this feel-good neurotransmitter can be very helpful if you are battling anxiety or depression.
Mental Health Benefits of Art 
How can ART help us improve our Mental Health? Art has many Mental health benefits, from boosting your self-esteem, and providing you a safe outlet to relieve your emotions, giving you a sense of control over your life, and helping you to get to know and understand yourself better. 
1.) You spent time with yourself
2.) You can capture your pain through art and vent out
3.) It gives you space to acknowledge and recognize feelings that have been lurking in your subconscious mind.
4.) It acts as a healthy outlet for piled-up emotions.
5.) Creating art can be used to relieve stress and relax your mind and body.
To conclude , I would say that, there is no better way to connect with yourselves and help you heal than to have a creative outlet. It is convenient, easy and distracting in a very good way. Art is beautiful and artists have thier world of own. So, How can ART help us improve our Mental Health? 
We all have a mysterious universe within us. When we invite the arts in, we are surprised and delighted in what we discover about ourselves. During the process of art creation, you will be taking yourself on a journey of self-discovery that will help you eliminate emotional roadblocks, and learn how to communicate with yourself and others.
Love and light!
Priyanka Nair is the author of 26 Days 26 Ways for a Happier you and Ardhaviram. An NLP practitioner and Founder of Sanity Daily, helping you prioritize your mental health. Let's build a happy community.