Parenting comes with a lot of challenges and being a single mom is no easy job at all. Sole responsibilities can often feel overwhelming and occasional burnout is natural. Then how to embrace being a single mom? I am a single parent to my daughter, I have seen the best but I do have my worst days when I see no single ray of silver lining. But over the period, I have learned to stay calm and I program myself to deal with the worst scenarios, through this post I am going to share a few things I do.
You know what? It is possible to embrace single motherhood and also find a sense of fulfilment in the solo journey. The first step is to acknowledge the challenges that come along with being a single mom. Most of the time even when a father is present, it is mostly mothers who manage things around their children. These can include financial strain, lack of support, social stigma and a toll on your mental health while raising a child alone.
By recognising and accepting the challenges we begin to work towards finding solutions and tend to realise the need to develop coping skills to navigate through them.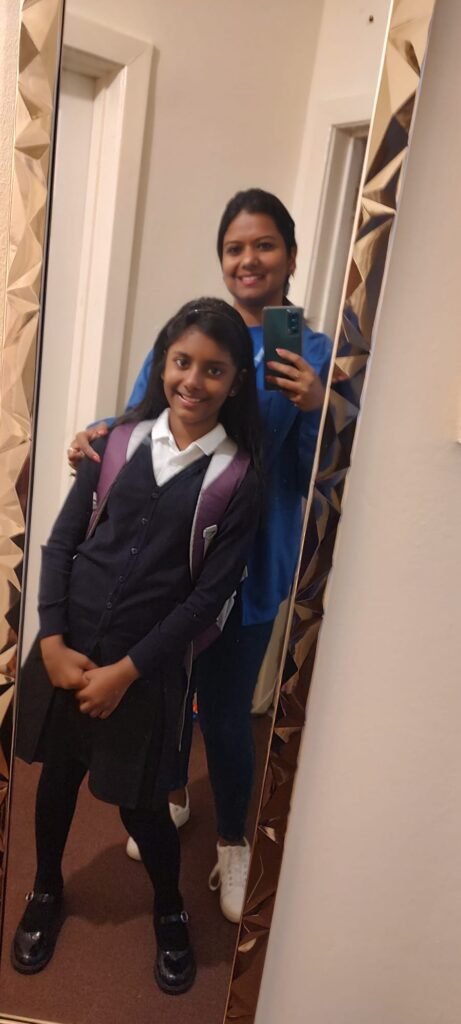 4 ways to embrace your identity as a single mom
Single mom is just another label given by society or how we choose to address ourselves. The fact is we are not defined by our relationship status or any opinions of others, we are defined by embracing our new identity and how we choose to walk through the journey.
Seek support
One of the most important ways to embrace single motherhood is to find support and be a part of a like-minded community. "Like-minded", and "sailing in the same boat" are keywords here. They can help you provide a sense of belonging, you can relate to them and feel reassured in many ways. You can develop a safe space to share your experiences and challenges and be there for each other. Support matters a lot when you raise a child alone.
When I moved to the UK, I didn't know anyone here, and with a child alone, if I had no supportive friends and colleagues I would not have been able to deal with my recent physical challenge with diplopia. My colleagues and my friends have helped me to feel safe and secure even in a new environment.
Self-compassion
If you want to own your life, learn to be compassionate towards yourself. Do not expect people around you to be compassionate and thoughtful about you all the time, they can not be. You need to take care of yourself both physically and emotionally to ensure you have the strength and energy to take care of your child.
You need to start prioritising your mental health above anything else, being a single mother I know how stressful it can get and if I do not give myself the due rest, I will collapse and then everything will just go haywire, can we even afford that? Do not go hard on yourself, take regular breaks, minimise commitments and show some self-love.
Set boundaries
Every family arrangement is different but sometimes you need to set boundaries with your ex so that you can ensure the balance between your expectations, and communicate effectively. Encourage open communications and set rules.
Prioritise your child's emotional well-being
Have an open dialogue with your child, and dedicate time to talk and listen. Your child's well-being is crucial too as you try to meet ends. Be honest and do not overcompensate to fill the gaps. Focus on building a strong and meaningful bond by making them feel safe, preparing them for life and being their guiding light.
Ending note…
Being a single mom comes with its challenges, but it's also a journey full and growth. By acknowledging the challenges, embracing your identity, and prioritizing your child's well-being, you can navigate the journey of single motherhood with confidence and grace. Make sure to practise self-care and set realistic goals for yourself and do not fall for perfection.
FAQs
How can I find support as a single mom?
You can find support through friends and family, online communities, or by joining a local support group for single moms.
How do I manage the financial strain of being a single mom?
Look into financial resources and assistance programs that are available for single moms, and consider creating a budget and finding alternative sources of income.
How do I balance work and motherhood as a single mom?
Prioritize a work-life balance by creating a schedule that works for you and your child, and consider flexible work arrangements or alternative income sources.
How do I explain to my child why their other parent isn't around?
Be honest and age-appropriate in your explanation, and encourage open communication with your child.
How can I practice self-care as a single mom?
Practice self-care by prioritizing activities you enjoy, getting enough rest and relaxation, seeking
This post is a part of #BlogchatterA2Z 2023